Why did you start Gentleman's Gazette and how did you scale it to where it is today?
My interest in classic men's clothing first appeared at the tender age of 14, and in the following years after I visited craftsmen, tailors, shoemakers. Ironically, my last name is German for tailor.  After graduating from law school in Germany, I came to the U.S. in 2009 to finish my masters of law and got married to my wife and business partner Teresa.  Once I applied for the green card, I had to wait for a work permit, and so I had plenty of time, but no possibility to work. So I started the Gentleman's Gazette as a hobby because I could not find the information I wanted. Also, I had seen other blogs pop up, run by people who I thought knew less than me, and so I had to do it better.
I hated law and knew I would never want to work as a lawyer and since the economy was bad, and I had no network, nobody wanted to hire a foreigner without any work experience at that time. 
Once I got the green card, we already had our first advertiser, and my wife and I decided that it would take us about 5 years to grow the website so we could draw a 6-figure income, and today we have a team of 8 and are growing very strongly.
How'd you become such an expert on the dapper lifestyle?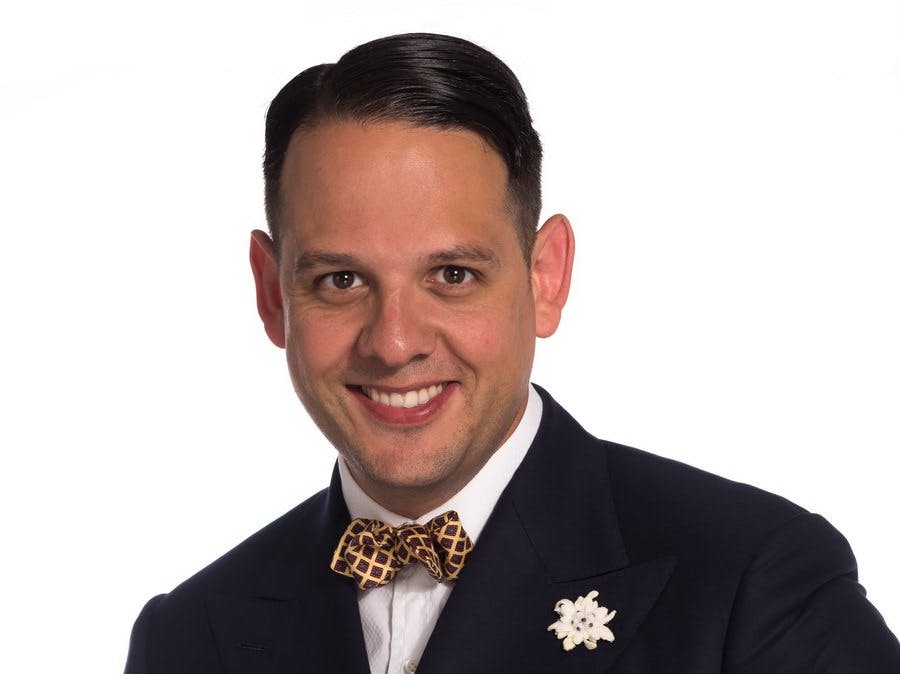 Books, visits of craftsman and an obsession for detail. When I am interested in something I really dive deep to understand it fully. For example, I was interested in vintage men's fashion illustrations from the 1930's, which floated around in online style forums. I researched and found people who had these magazines in their basement, and they were happy to give them to me. I took the best of these and made them into an ebook Gentlemen of the Golden Age showing men how they can use principles from the 1930's and apply them today so they look stylish, and not dated. Back then people in general had a much better understanding of fit and more discerning taste. For example, gloves were available in 16-20 sizes, today most people don't know there is more than small medium and large.
Why do you think your blog has been so successful and how do you position yourself against big brands like GQ and Esquire?
When I write a guide about a topic, I want it to be substantial, helpful and actionable for our readers. At the same time, I strive to create the best piece of content online about that topic and people appreciate it. I am also very analytical, and online you can analyze everything, and so I learned early on to do more of the things that work and less of the things that don't. 
The Gentleman's Gazette also targets intelligent men who are often frustrated with the fluffy advertorial coverage in the big men's magazines, and therefore we were able to carve out our niche and grow despite the sheer size of the established publishers.
As a startup we're pretty low key and casual around the office (as are most startups). What do you think of this  t-shirt and jeans trend in the tech startup world?
In the U.S. dress codes have often vanished and most people can wear pretty much anything they want. As a consequence people wear what they feel comfortable in. Now comfort is not some objective measure but rather subjective. At the same time, it is influenced by our surroundings. For example, most Americans feel comfortable on a soft, cushy couch, whereas most Germans would describe American couches as overly soft and uncomfortable. It is very similar with clothes. Many Americans are comfortable wearing jeans, t-shirt and flip flops. That same combination would make a frenchman deeply uncomfortable. 
Comfort aside, people judge other people, all the time, whether consciously or subconsciously. When you meet someone for the first time, you have already judged him after the first second before you even know him. The way a person looks as a huge impact on how someone is perceived, and it's incredible how differently one is treated depending on how one dresses and wearing a t-shirt and jeans are generally not the most flattering way to present yourself. 
Wearing the right clothes can communicate status, wealth, competency, respect, attitude, character... and when you look at clothes that way, the are one of the puzzle pieces of success, especially when it comes to sales. And whether you sell your company, your product or yourself, you always sell. 
Is there still a way to keep this type of dress code "gentlemanly"?
No.
What's would you consider acceptable attire for a startup interview?
It really depends on the environment and the startup. For example, if it is a startup in the financing industry, a suit may be a good idea, whereas you will likely alienate yourself from the others if you show up in wall street outfit at a young IT company.  
If you apply for a design agency, a bow tie may look great, especially if you know how to tie a bow tie yourself, but in law start-up that might be considered a privilege you have to earn first.
Again, it all depends on what you want to communicate, who you are addressing and the environment you are in.
Because many people ask this question, we put together a 4-part interview series about Job Interviews that will really help.
1. How To Prepare For An Interview
2. What To Wear To An Interview
3. Interview Questions & How To Answer Them
What modern icons do you think best live up to "Gentleman's Gazette" standards?
It's really difficult to find famous, well-dressed American gentlemen, which becomes evident at the Oscars. I'd say among U.S. celebrities Tom Ford is the exception. He has a great sense of taste and proportion. Even though he has his own clothing line, he had his white tie tailcoat ensemble tailored on Savile Row, because the English style suited him better than the Italian silhouette of his own clothes. 
Of course, you can find many well-dressed gents in the U.S. but they are not well-known icons. 
How'd you come across us and why'd you end up choosing KPMG Spark?
I found you when you at ICON in 2015 when you were still Tax Alli. You guys were wearing shirts that were buttoned up all the way without a tie,  so I knew you must be from Utah. Initially, we signed up for a free trial and we were really impressed about the first conversation with your accountant. He provided more insights than the one we had. Unfortunately, we could not integrate with our bank account and PayPal the integration, and so we cancelled it. 
Since we run an online business, I like dashboards and overviews and KPMG Spark seemed to provide a good platform. I abhor accounting and it was the first thing I outsourced. 
Before KPMG Spark, we had a bookkeeper, and a CPA who would file our taxes. I found it intriguing that you offered an all-in-one solution because when things go wrong, I know who I can talk to: you and there will be no fingerpointing because you do it all for us. 
So I reached out to you again, and it turned out you had improved your system and now allowed integrations for our bank account and PayPal. We signed up again, and we had ongoing issues with the PayPal integration. It turned out it was PayPal's fault but Dee and Jordan really tried to solve the issue. Eventually, I figured out what the issue was and now we are up and running, but I have always found that great customer service shines when things go wrong, and I feel very confident that you will show the same degree of dedication and interest when something goes wrong in the future. 
Paired with the flat fee, KPMG Spark provides a peace of mind for us, and we are glad we switched.
What's a valuable tip you could give other business owners hoping to make engaging content and blogs that drive traffic?
Make it about the reader.
Good content is reader-centric, so when you write always ask yourself:" What's in it for them?" "Do they understand what I am talking about, do they care?" Make it about them, and their benefit not your product or your company because frankly they don't care about you unless you give them something they want or need. 
That aside, it pays to analyze what people are searching for, and what their problems are. If you speak to your customers or do a survey you can get a much better idea of what their real problem is and you can help them solve it.
Once you do that, your content will be shared, because it's worth sharing, unlike most corporate blog posts who are just self promoting.
Last but not least: be real. Show them you are a person, and why you do what you do and skip the bullshit. Most company about pages just say:" We were founded because we have a passion for xyz, and it is our goal to provide the best customer service and greatest xyz." That's fluff, and people can see it right through it. 
Instead write for people and their problems.