Blockchain, blockchain, blockchain….what is the blockchain?
It's plastered all over billboards, blog posts, and the news. It's considered the new hotness and it's poised to potentially change small business but you still aren't 100% what it is or what it might mean for your business. Well, here's the deal… 
The Blockchain Explained
The blockchain (adequately named) is a chain of blocks, each block in the chain contains data related to a specific transaction. When a transaction occurs, this information is stored in a block and then added to the chain. These blocks combine to form a distributed database that can scale as more and more transactions occur. Unlike traditional databases, this system creates a single shared ledger.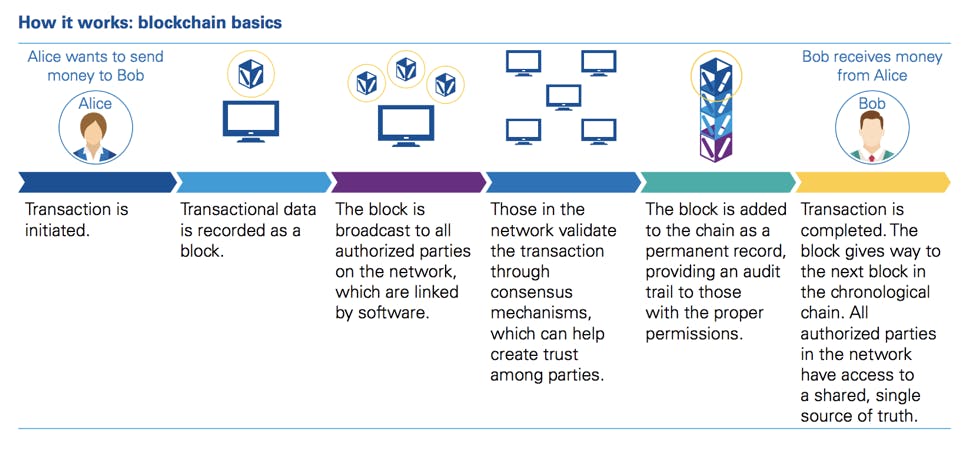 How does the blockchain keep transactions secure?
The blockchain maintains security through approval of its participants. Blocks are distributed amongst users (peer to peer network) and information is protected using private key cryptography. Rather than information being stored in a single location, data is distributed amongst many smaller decentralized networks working together as if one.
Each user has both a private and a public key. The public key is like an address by which other  users can send and receive digital assets; the private key is known (or should) only be known to the individual user. Combined, these keys form a user profile by which they can anonymously interact and create transactions with others online.
Why is Blockchain important?
Increased efficiency: A single ledger that's continuously synchronized throughout a network potentially eliminates the need for reconciliations.
Reduced loss and fraud: Blockchain is designed to create and maintain unalterable records. This may help reduce the risk of fraud and show compliance through an audit trail.
Improved customer experience: Using blockchain to share information with clients and vendors may allow companies to serve customers more quickly and even find new sales opportunities.
Higher availability of capital: Blockchain technology may reduce capital consumption due to quicker settlement of trades, straight-through processing, and freed-up capital flows.
What the Blockchain Means for Small Business
A New Future for CFOs
Blockchain may also have significant impact on financial operations. The KPMG analysts who have been studying the technology anticipate these key trends:
Work with existing systems: Blockchain will not replace current CRM (Customer Relationship Management) software offerings overnight. However, it may take time to fully realize the benefits of blockchain's real-time view of data.
Go private, then public: Finance organizations may start with private blockchains to retain sensitive data, but could eventually add permissioned blockchains for industry partners and even customers.
Mind the regulations gap: It's going to take time for government regulators to understand the technology and its decentralization of financial activities.
Smart Contracts
Smart Contracts are a less talked about blockchain innovation that can help facilitate agreements between businesses directly. Leveraging the power of the blockchain, smart contracts may help eliminate legal fees and create speedier workflow between two entities without the need for a lawyer or intermediary.
Smart contracts aren't beholden solely to two separate entities. A company can use the technology internally, using it like an operating system that governs different types of transactions. In this sense, a business might be able to better track parts and services, transactions, data flow and other functions.
Some of the small business areas that will likely be affected are:
Invoicing
Payroll
Fulfillment
Property Management
Lending
Construction
Legal Matters
NDAs 
Evaluating Blockchain for Your Business
Blockchain may have a big impact on core processes: Quote-to-cash, source-to-pay, and acquire-to-retire processes may all be affected.
But blockchain is not the latest new cure-all. It's important for CFOs and executive leaders to address a number of questions about when and how blockchain implementation makes sense for their businesses, including:
What types of transactions are best handled by a blockchain technology?
What kind of infrastructure or new equipment will be required?
Who will manage a blockchain and new participants?
How can blockchain technology improve risk management?
What are the regulatory implications?
Industries Likely to be Impacted by Blockchain Technology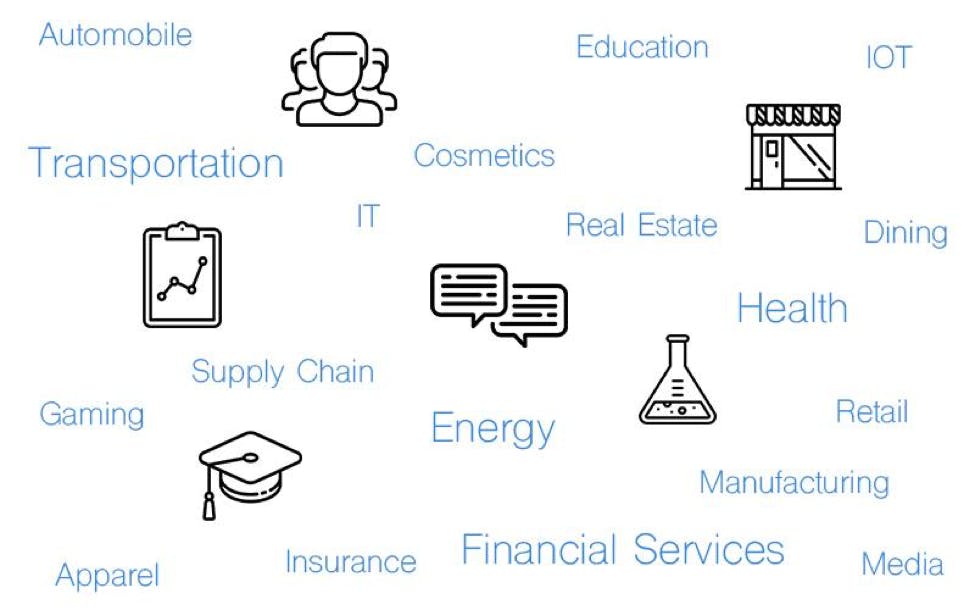 Blockchain can cut through that multilayered complexity by establishing a single ledger to track and capture as many of the interconnected web of transactions as makes sense for a given business. For example, consider the possibilities for a shipping company, which has to navigate transactions with:
Internal staff
Contract staff
Manufacturers shipping goods
Ports-of-passage requirements
Transfer fees and taxes at multiple stops
Bills of lading requirements at multiple stops
Transnational and international maritime laws and boundaries
Insurance requirements across multiple borders
Final delivery and confirmation
Losses and damages
Let's take another, simpler example, like a landlord with several properties and a couple of employees. Here are some areas where blockchain technology might help:
Fulfilling payroll for employees
Rental Agreements between landlord and renter
Property leasing agreements for an office
Building Contracts
Invoicing of tenants 
Examples like these have many challenges that can stall business growth and cause headaches. However, leveraging the power of the blockchain may provide many opportunities to make complex process and workflows run smoother, safer, and more efficiently.
Businesses, developers and consumers are still learning and discovering the potential that blockchain technology holds. It has yet to completely overhaul an industry but the excitement behind it is undeniable, and the technology—potentially revolutionary.
For more insights about blockchain, visit here.
The information contained herein is general in nature and based on authorities that are subject to change. Applicability to specific situations is to be determined through consultation with your tax adviser.
Sources:
https://assets.kpmg.com/content/dam/kpmg/xx/pdf/2018/07/h1-2018-pulse-of-fintech.pdf
https://www.forbes.com/sites/kpmg/2018/09/11/blockchain-and-the-future-of-finance/#7cda4f55620f
https://advisory.kpmg.us/articles/2018/blockchain-future-finance.html?utm_source=forbes&utm_medium=content&mid=m-00002211&utm_content=blockchainfinance&utm_campaign=c-00061241&cid=c-00061241
https://tax.kpmg.us/articles/2018/blockchain-and-future-of-tax.html
Some or all of the services described herein may not be permissible for audit clients and their affiliates or related entities.
The following information is not intended to be "written advice concerning one or more Federal tax matters" subject to the requirements of section 10.37(a)(2) of Treasury Department Circular 230.
The information contained herein is of a general nature and based on authorities that are subject to change. Applicability of the information to specific situations should be determined through consultation with your tax adviser.