MailChimp is one of the most popular (for a good reason) email service providers in the business. It has incredibly handy features like auto-scheduling, A/B testing, third party integrations and a cool chimpanzee logo to boot (for the nerdishly curious, his name is Freddie). 
And while MailChimp is extremely intuitive when it comes to sharing email templates with other users, it's not so self-explanatory when it comes to sharing templates with others who don't have access to MailChimp.
How to Share an HTML Template With Non-MailChimp Users:
After creating your template, the first thing you'll need to do is click the drop down arrow next to the edit button.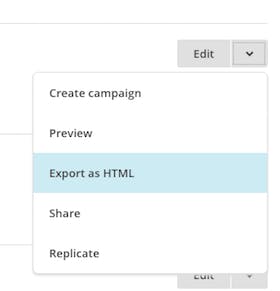 Scroll down and click where it says "Export as HTML." Once you do, you'll receive the following pop-up...

Despite the scary text that makes it sound as if you'll lose all of your saved work, just click where it says "Export Template." So far, so good—right? Well, here's where the majority of confusion comes in...

After exporting your template as an HTML file, you'll receive a file download button. If you're using Safari this will appear under the downloads arrow on the top right of your browser, or if you're using Chrome—at the bottom left.
Rather than click on the file and open it (as you would a normal download), place your cursor over the HTML download file and drag it onto the desktop. Attach the file to an email, and send it. Now you're done, it's as simple as that!